What's All The Buzz about ProNutriv™?
We invite you to experience the whole spectrum of benefits derived from Mother Nature and delivered to you in our ProNutriv™ brand of products.
What's All The (Buzz) about ProNutriv™?
We invite you to experience the whole spectrum of benefits derived from Mother Nature and delivered to you in our ProNutriv™ brand of products.
ProNutriv™ is a poly-botanical formulation made from a selection of the finest botanical extracts that provide natural support for immune health, cellular function and help maintain homeostasis in our body's systems.
Brazilian Bee Propolis
Brazilian Bee Propolis is one of the most compound laden natural ingredients found anywhere on earth. Geographic location determines the color and composition. We incorporate only Brazilian Propolis, recognized as the rarest and finest available. With hundreds of natural compounds present, the immune boosting/support qualities of Bee Propolis, backed by clinical studies, make this the cornerstone of our formulations.
Propolis is a natural compound produced by bees from the sap of plants and mixed with wax and resin. It is used to repair the hive, and to protect it from predators like viruses (poisons), bacteria, fungi and various microbes and diseases. Not surprisingly it can be extremely useful in fighting various diseases. Propolis has been known for its numerous health benefits for thousands of years and is a commonly used in Far Eastern, South American and Eastern European homeopathic medicinal treatments.

The actual content of bee propolis depends on the geographic location of the bees and the time of year. Propolis is comprised of natural compounds, many of which are concentrates of powerful antioxidant plant flavonoids and phenols.

Propolis has many research-proven benefits.
The rarest and most compound laden (best for you!) propolis comes from a small region of the Brazilian Rainforest. It is known as Red Propolis and contains over 400 health inducing/supporting compounds. Brazilian Green and Brown Propolis are harvested close by and also provide hundreds of helpful compounds.
We Use Only Brazilian Propolis In Our Products!
Phd Formulated
Nature's
Most Effective
Health & Immune Support Ingredients
Our goal was to seek out and find the ultimate combination of natural products focused on wellness, better health, natural healing and complete immune support.

Working under the guidance of known holistic healing leader Dr. Mark Kaylor, PhD, we have assembled an ultimate combination of natural products that achieves our goal of providing complete wellness and immune support.
Nature's Most Effective Immune Support Blend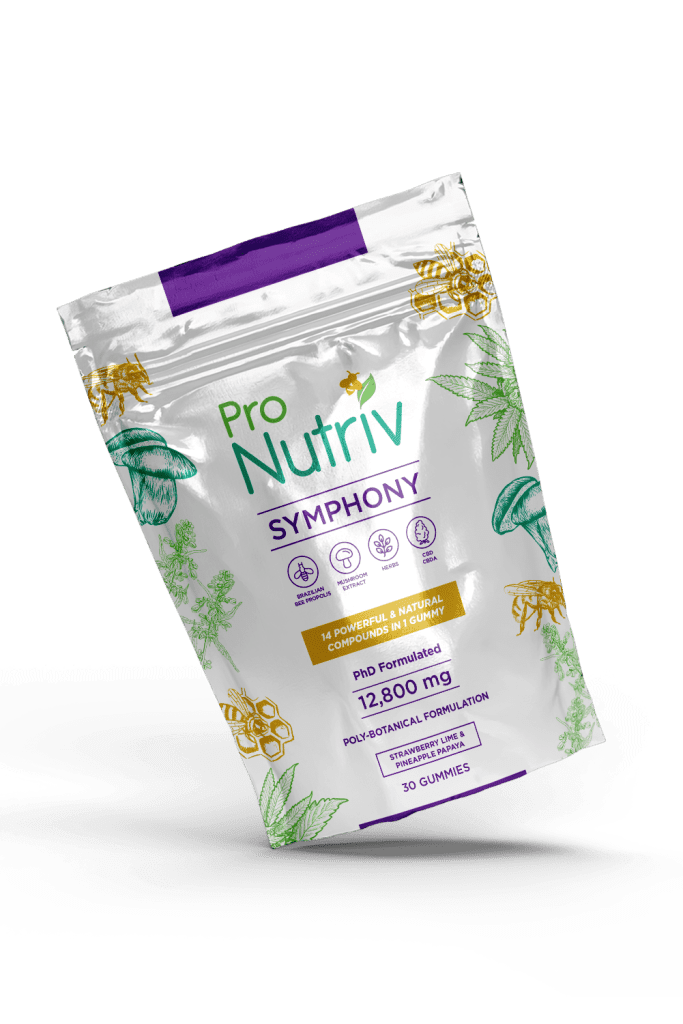 Symphony
Gummies
Available in 30 or 60 count sizes.
Buy Now
Symphony
Capsules
Available in 30 or 60 count sizes.
Buy Now
Symphony is our most powerful answer to boosting your immune system with a natural, complete, super blend of Brazilian Bee Propolis, Mushroom Extracts, Herbs and CBD/CBDa. There are over 14 individual ingredients in Symphony. Our PhD formulated blend provides deep concentrations of each of these 4 powerful immune boosting components. While each by themselves provides natural helpful qualities, we blend them to specific portions, thus supercharging them into one synergistic SYMPHONY of immune support/boost goodness. Taken daily to keep your systems in check, or doubled if you feel the onset of any illness. There is no other formula available offering the wonderful natural blend of the finest ingredients that Mother Nature has provided us to help support our immune system.
Get To Know Our Super Immune Support Tonics
Harmony
Harmony is our ultimate immune support tonic, perfectly providing you the best natural combination of natural ingredients to help support and boost your immune system.
Included in the ultimate formulation is Reishi Mushroom Extract, Ashwagandha (KSM-66), Black Seed Oil, CBD/CBDa, Peppermint Oil and Brazilian Red Propolis. All ingredients are blended to exact proportions providing exactly what you need for daily immune support. We incorporate natural vegetable glycerin as the carrier base in the formulation and this is going to be the easiest and most effective blend of natural ingredients you can take for daily support. Take it daily as a preventative or double your dosage if you feel slightly off your game and need to get your body back into Harmony.
Add To Cart
Dream
Dream Tonic is our formulation for those suffering from insomnia, or when it's just hard to get to sleep. All natural ingredients blended to exact proportions help soothe and calm so you can get the rest you need.
Our combination of Reishi Mushroom Extract, Black Seed Oil, Hops Essential Oil, Peppermint Oil, CBD/CBDa and Brazilian Red Propolis provide just the right combination to help you get to sleep as well as provide essential immune support, giving your body what it needs to feel better so you can rest better and finally Dream.
Add To Cart
Relief
Relief Tonic is our proprietary blend of polybotanical ingredients formulated to provide maximum Relief for pain. Blended for everyday use, our combination of Cordyceps Mushroom Extract, Black Seed Oil, Peppermint Oil, Brazilian Red Propolis and CBD/CBDa provides the ultimate in pain relief and immune support.
Individually, these compounds work wonderfully for the Relief of common pain aliments, however when combined they provide results are fast and effective. All of the natural ingredients are provided in a 60mL tincture which allows you to self-titrate your dosage, depending on pain severity and frequency.
Add To Cart
Pain Relief
Pain Gel
Our ProNutriv Pain Gel is a rejuvenating fusion of whole spectrum hemp extract, proprietary herbs and essential oils—meant to provide rapid relief to specific areas of pain and promote healing and calmness. Our new and improved formulations deliver sustained relief from localized muscle pain and inflammation, all while nourishing skin and supporting your body and mind. Our all-natural formulation is potent but gentle enough on your skin to be used daily, is never greasy and leaves your skin feeling refreshed. This necessary topical allows you to focus on more important issues while it takes your mind off of your pain management.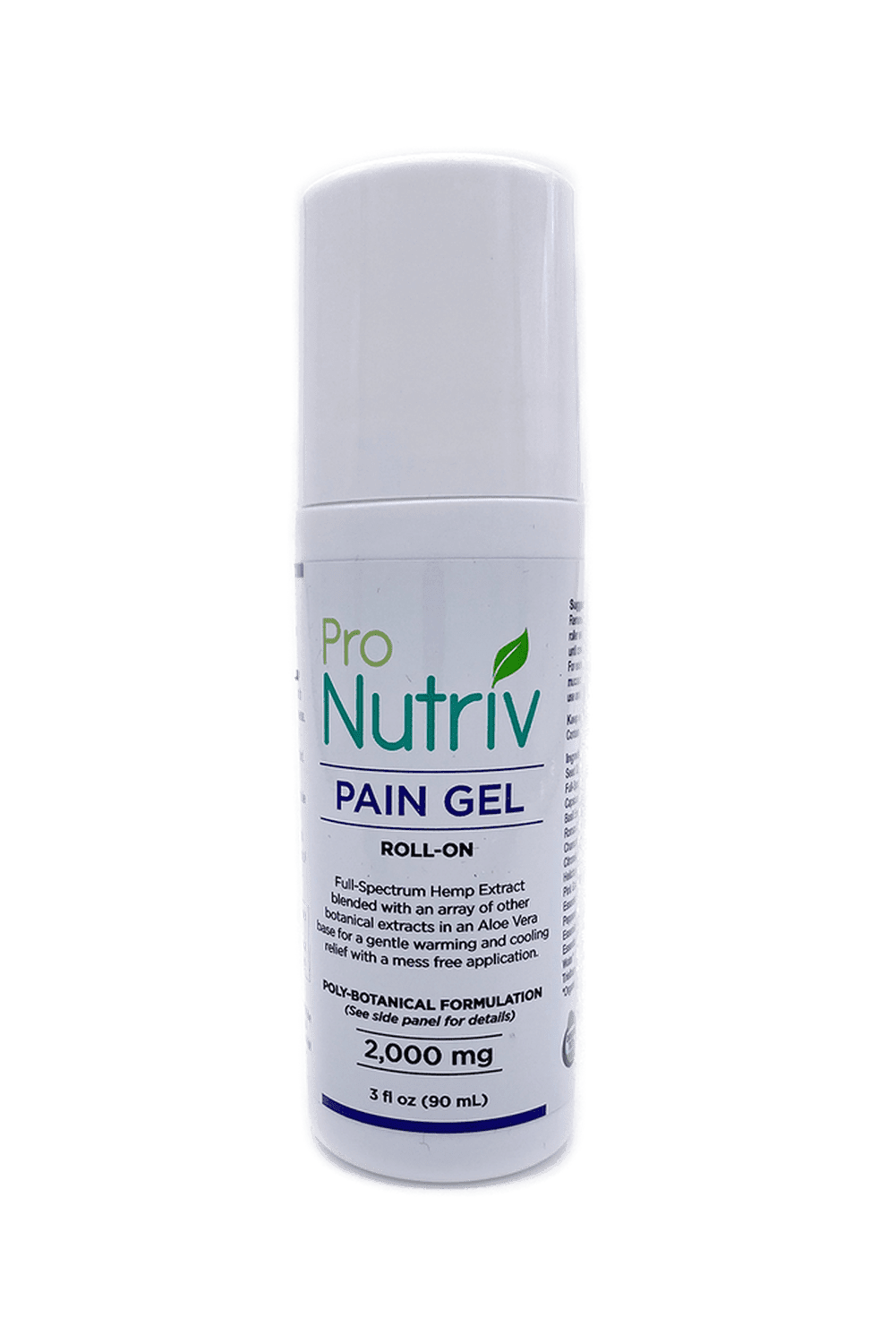 Add To Cart
Get To Know Our CBD / CBDa Extracts
Subscribe For Savings, Newsletters, and More
We promise not to spam your email or sell your personal info. We send emails once or twice a month at the most. Sometimes not event that many.